Boys State Track - Congratulations to Skyler Cade, Austin Baker, Landon McDowall, Ashton Wilson, Alec Carey, Orin Stipe, Andrew Enders, Anthony Arizmendi and Diego Arceo!!! State Track is May 19th and 20th.
I apologize for the confusion from yesterday as I was misinformed - Also going to state track for girls (boys will be announced later today once I confirm it) is Marly Ausman!!!
District Track, Headed to State!!! Kate Vineyard, Brynlee Hartley, Monica Ibanez, Maria Trinidad, Thalia Ramirez, Julianna Bowns, Deanna Wakefield, Gracie Johnson, Asbel Tellez, Ambrie Draper, Ella Draper, and Lynzie Torres!! State Track is May 19th and 20th.
Please congratulate Amber Lovitt on her dance results from Nationals this weekend (she is part of the Gem Cloggers dance studio): Amber: Placed 1st in one Solo Dance Placed 2nd in second Solo Dance Placed 1st in one Team Dance Placed 1st second Team Dance Placed 1st in Duet Dance Placed 2nd in A capella
Congrats to the tennis team!! The boys tennis team made school history this weekend by becoming the first Nyssa Bulldogs tennis team to win a district title. State tennis takes place - Thursday, May 19th thru Saturday, May 21st Girls Singles: Mary Esplin placed 4th Boys Doubles: Howie Rushton & Spencer Romans placed 4th Boys Singles: Dawson Richards - District Champion
Congratulations and good luck to Bailey Walker who qualified for state golf!!!
SPORTS Tuesday, May 17th - Golf State - good luck Bailey Walker Wednesday, May 18th and Thursday, May 19th - Track OSAA Championships - 8am and 10am Thursday, May 19th - Travel to OSAA Tennis - TBD Friday, May 20th - OSAA State Tennis and Track Saturday, May 21st - OSAA State Tennis Championships
Please note time changes for sports 5/13 and 5/14: Friday, May 13th - Baseball and Softball Varsity @ Enterprise - dismiss 1015am, depart 1030am Track Districts @ La Pine - depart 7am Tennis Districts @ Baker - 730am Saturday, May 14th - Track Districts @ La Pine Tennis Districts @ Baker - TBA
CLASS OF '22 SENIOR BANNERS We are excited to announce that we have ordered the banners for the senior class again this year as a fundraiser - funds for banners purchased will go towards their senior night!! If you would like to purchase your Senior student's banner please pay Nyssa High School $20 - if you would like to donate extra to help pay for the banners we greatly appreciate your support!!!!
The following sports events have been CANCELLED due to weather: Monday, May 9th - Softball home vs Baker Baseball JV home vs Vale

NHS Families: We will have a Junior Class meeting on May 18 at 9:00 for the class of 2023. We will be discussing their upcoming senior year and giving information about fundraisers for their graduation night activities. Parents are invited and encouraged to attend. Please note that this is on May 18 at 9:00 in the high school auditorium not May 29 which is graduation. Las familias de NHS, Tendremos una reunión de Junior Class el 18 de mayo a las 9:00 para la clase de 2023. Hablaremos sobre su próximo año con información sobre recaudaciones de fondos para sus actividades de la noche de graduación. Los padres están invitados y animados a asistir. Tenga en cuenta que esto es el 18 de mayo a las 9:00 en el auditorio de la escuela secundaria, no el 29 de mayo, que es la graduación.
Gem State Photo will be here during graduation taking pictures. They have forms available in the front office for your senior to pick up if you are interested.
STATE BAND COMPETITION Wednesday, May 11th and Thursday, May 12th Corvallis, OR GOOD LUCK!!!!!!!!!!
Yearbooks for 21-22 School Year Deadline to purchase is Tuesday, May 10th - $50 at the main office
Junior Class Meeting - Wednesday, May 18th @ 9AM - Parents are welcome to attend

Lunch Menu May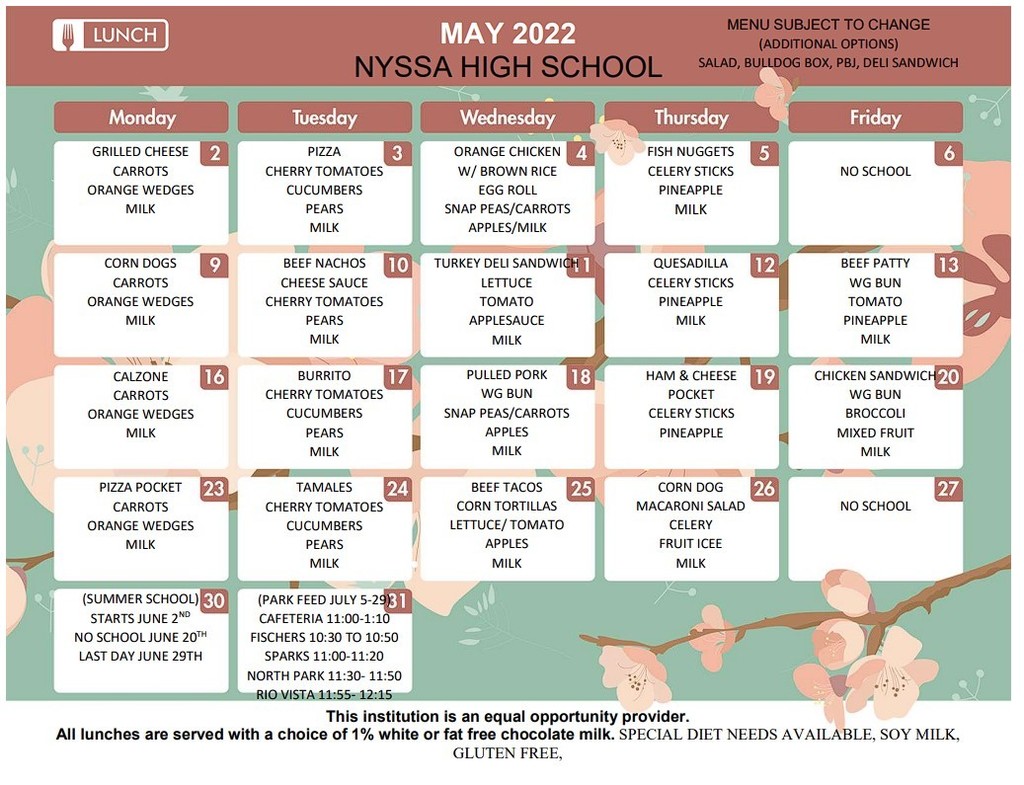 El equipo de Educación para Migrantes está haciendo la inscripción para la Escuela de Verano para Migrantes por las tardes esta semana. El equipo estará en la oficina del Distrito de 4:15 p.m. - 8 p.m., de martes a viernes. También estamos registrando al Instituto de Liderazgo Migratorio de Oregón (OMLI) para estudiantes de secundaria y preparatoria. Aquí está el enlace en línea para el registro OMLI
http://go.tvcc.cc/l/397372/2022-03-10/285ggg7

The Migrant Education team is doing Migrant Summer School registration in the evenings this week. The team will be in the District office from 4:15 p.m. - 8 p.m., Tuesday through Friday. We are also doing Oregon Migrant Leadership Institute (OMLI) registration for middle and high school students. Here is the online link for OMLI registration
http://go.tvcc.cc/l/397372/2022-03-10/285ggg7

NHS Senior Parents , we will be extending the community service deadline for seniors to April 22nd. Community service is a state diploma requirement and students must meet all diploma requirements in order to participate in their graduation ceremony. This deadline exists so that we can order graduation announcement, diplomas, and miscellaneous graduation items. Please talk to your senior and help them find a way to complete their remaining community service prior to April 22. THANK YOU!

The Nyssa FFA Awards Banquet and Scholarship Auction will be tonight at 6:00pm in the Nyssa High School Cafeteria. Come have fun and support our FFA students. They will be serving Tri-Tip and Pork Loin for $15 per plate. Tickets are available at the door. Call Nyssa High School at 541-372-2287 for more information.