Congrats to the students of the week who won some fun Dutch Bros cards!! Dylan Robbins Giovani Lopez Ramos Javier Tena Hidalgo Keira Briner
Happening NOW!!! Come down and see us in the High School Commons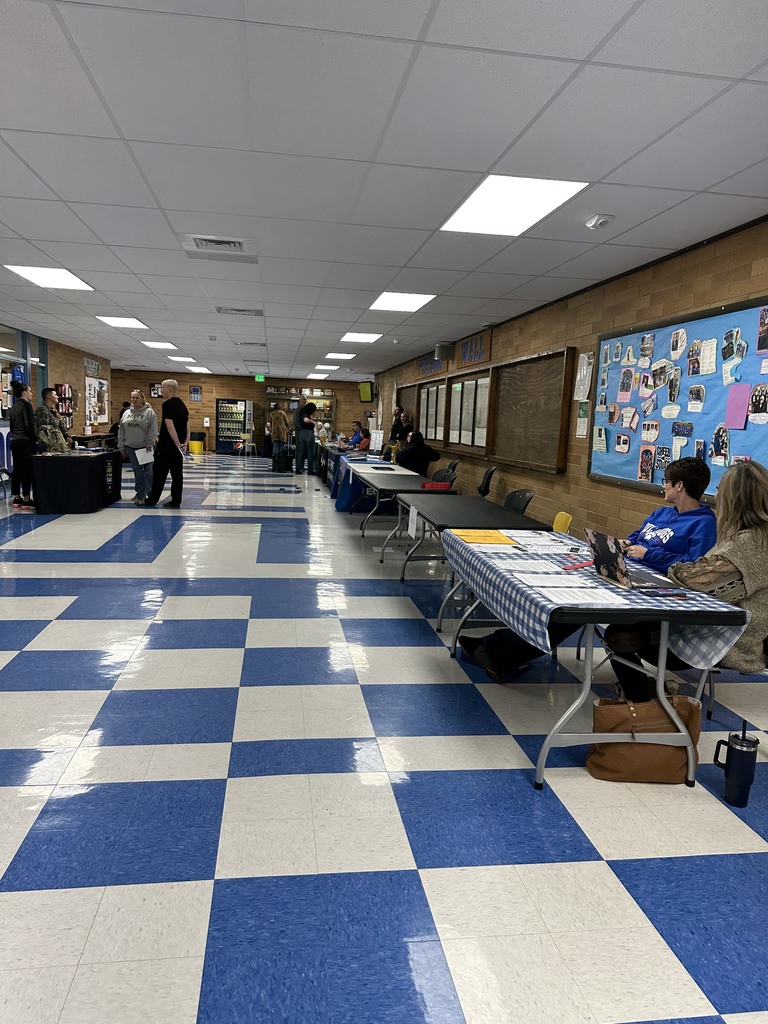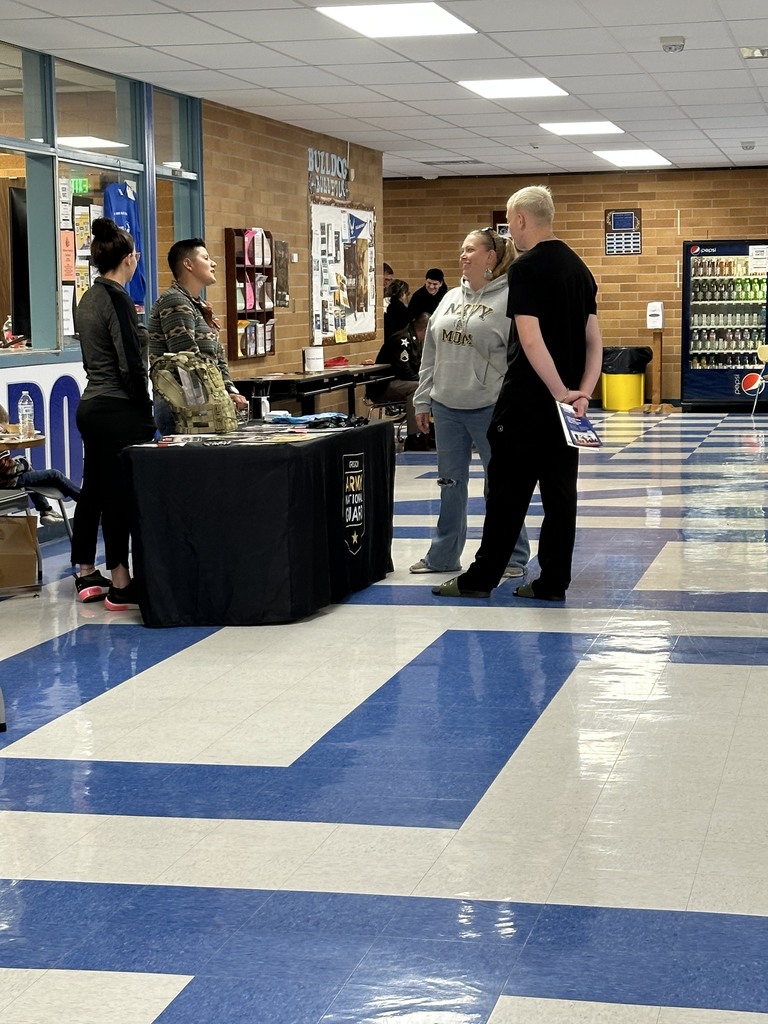 College Fair and Health Expo today 3-6pm in the High School! HOSA is providing childcare in room 10. ¡Feria Universitaria y Exposición de Salud hoy 3-6pm en la escuela preparatoria! HOSA está proporcionando cuidado de niños en el salon 10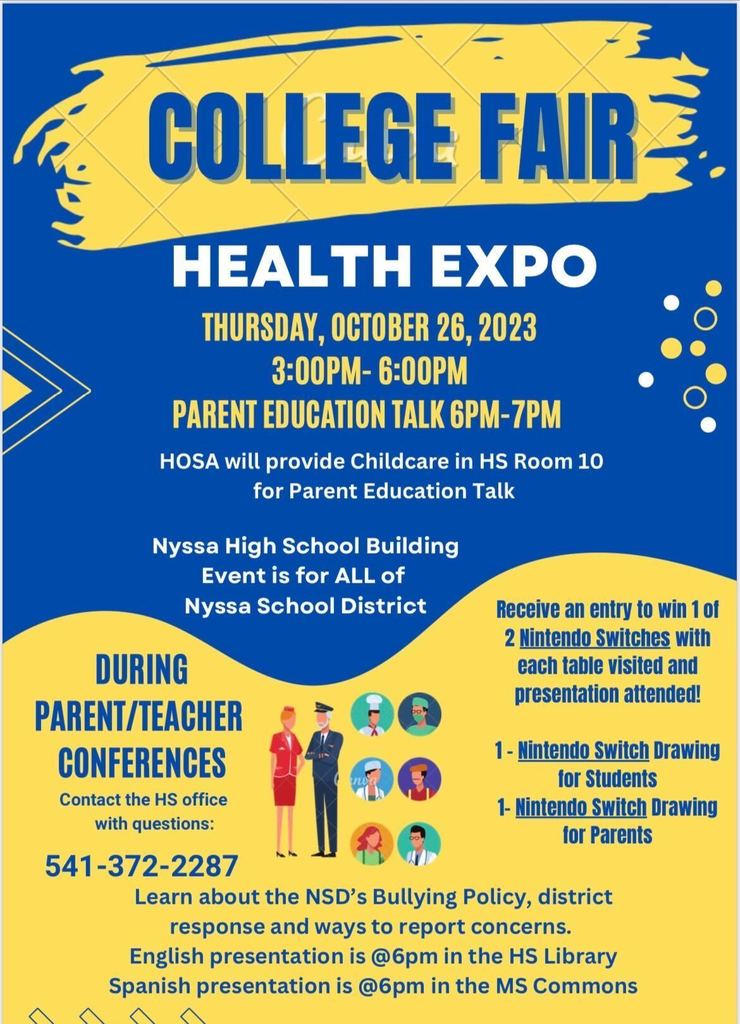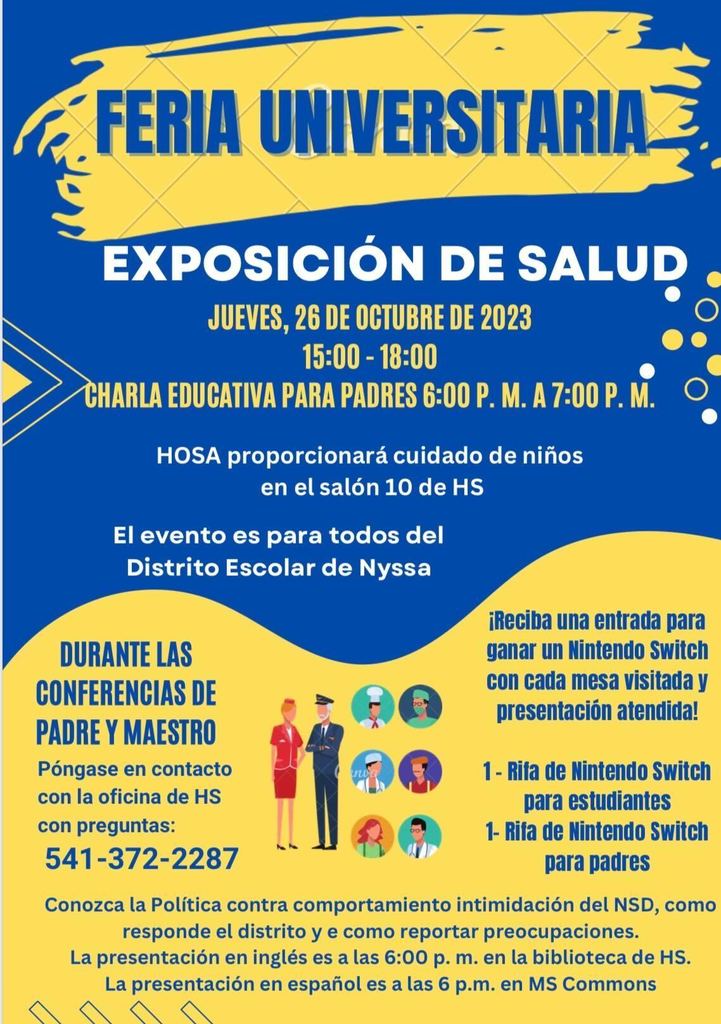 Familias de la escuela secundaria Nyssa, Las conferencias de padres y maestros continuarán mañana jueves 25/10/2023 de 8:00 a 12:00, 1:00 a 4:00 y 5:00 a 8:00. Se requieren conferencias para todos los estudiantes. ¡Esperamos verte! Recuerde también que la OTI para los estudiantes que necesitan ayuda es de martes a jueves de 3:30 a 4:00 y las tutorías de matemáticas por la noche son los lunes, martes y jueves de 7:00 a 8:30.
Nyssa High School Families, Parent Teacher Conferences will continue tomorrow Thursday 10/25/2023 from 8:00-12:00, 1:00-4:00, and 5:00-8:00. Conferences are required for all students. We look forward to seeing you! Please also remember that OTI for students needing help is each Tuesday-Thursday from 3:30-4:00 and evening math tutorials are Monday, Tuesday, and Thursday from 7:00-8:30.
Black v Blue Shirts (long sleeve) have arrived and are for sale in the NHS Main Office. Only $15 each so stop in and get yours before they are gone!!! Thank you Munk Family Dental for your generous donation and support of our football and athletic programs!!
Class of 2022 Graduate Lincoln Lovitt left for the Navy after swearing in yesterday! NHS Bulldogs wish him the best!!! Thanks for sharing the updates Lance and Wendy Lovitt!!
Come join in all the fun!! Tuesday, Oct 31st 5pm to 630pm A Little Spooky 7pm to 830pm Be Prepared to be Terrified See flyer for more information or join us on Facebook!
¿Está su hijo adolescente listo para aprender a conducir? El DMV de Oregon ahora ofrece pruebas en línea para la prueba de conocimientos de Clase C y la prueba de conocimientos sobre motocicletas. Ahórrese algo de tiempo y consulte las pruebas en línea en DMV2U.oregon.gov.
Is your teen ready to learn how to drive? The Oregon DMV now offers online knowledge testing for both Class C knowledge tests and motorcycle knowledge tests. Save yourself some time and check out testing online at DMV2U.oregon.gov.
HEALTH EXPO THURSDAY, OCTOBER 26, 2023 3:00PM- 6:00PM PARENT EDUCATION TALK 6PM-7PM Nyssa High School Building Event is for ALL of Nyssa School District Contact the HS office with questions: 541-372-2287 Learn about the NSD's Bullying Policy, district response and ways to report concerns. English presentation is @6pm in the HS Library See Flyer for more Info. FERIA UNIVERSITARIA EXPOSICIÓN DE SALUD JUEVES, 26 DE OCTUBRE DE 2023 15:00 - 18:00 CHARLA EDUCATIVA PARA PADRES 6:00 P. M. A 7:00 P. M. El evento es para todos del Distrito Escolar de Nyssa La presentación en español es a las 6 p.m. en MS Commons Póngase en contacto con la oficina de HS con preguntas: 541-372-2287 Conozca la Política contra comportamiento intimidación del NSD, como responde el distrito y e como reportar preocupaciones. Más información en el folleto.
Congrats to our students of the week!!! Luke Baker Ian Esplin Kiera De Leon Estrella Moreno
Thursday, October 26 - see attached flyer
Due to a shortage of officials the girls soccer game for today 10/20/23 has been moved to 4pm.
Students and parents gathered at the Nyssa Migrant Preschool classroom to learn about and participate in activities designed to increase students' mathematical awareness. Migrant School Readiness Specialist Tere Ley conducted the event along with classroom teachers Rosalie Marvin and Diana Monroy.
Coming up NEXT WEEK! We look forward to seeing all of you - the class with the most parents to attend will get an extended lunch on an upcoming day.
Join the Bulldog and Tiger Band and Choir Masters for their first concert of the year! Red Ribbon Spirit Week with Dress up Days Halloween Costume Contest
NHS Students of the Week Miguel Candelas Ruth Romans Olivia Rushton Hailey Harnden
NHS Students of the Week Jessy Cosby Anthony Arizmendi Chelsy Pacheco Not Pictured: Joaquin Cuevas
Due to official shortage the game for 10/20 has been changed to 10/21 at 1pm vs Burns. This will still be their SENIOR NIGHT.